In September 2018, the Just Powers team attended the Petrocultures conference. The 2018 theme, "Transitions," provided an integral framework for examining and extending existent framings and sitings of oil and petroculture, while also provoking considerations of the social, cultural, and aesthetic life of alternative forms of energy, such as wind, solar, and hydro power.
Just Powers Talks & Activities
The Just Powers team presented several talks and workshops in order to ask: how we might organize around energy transition in order to imagine and create more livable futures for all?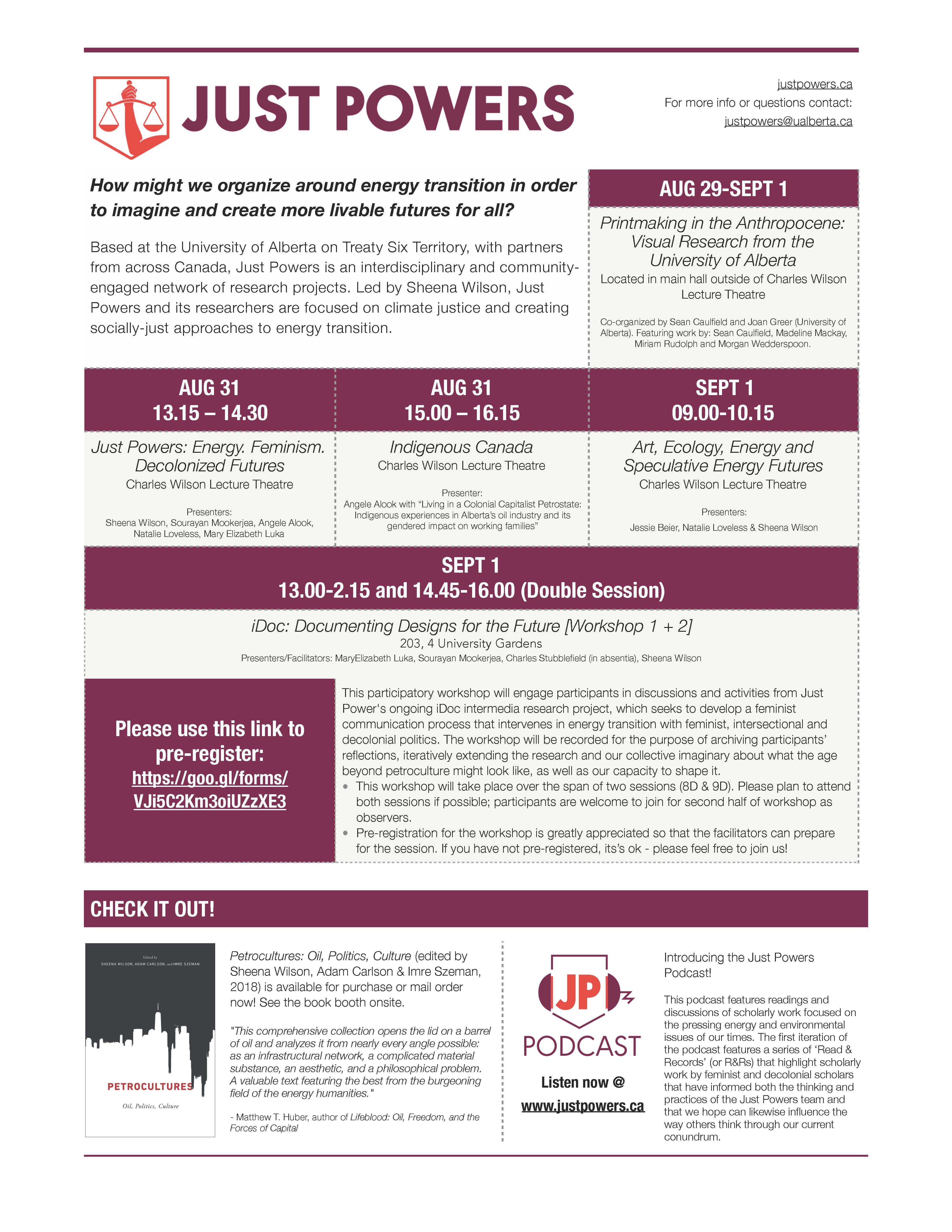 These talks and workshops included:
iDoc: Documenting Designs for the Future & Perfect Storm Game-Playing Workshop
Presenters/Facilitators: Sourayan Mookerjea, Jessie Beier, Mary Elizabeth Luka, Sheena Wilson, Danika Jorgensen-Skakum and Charles Stubblefield (in absentia)
This participatory workshop engaged participants in discussions and activities from Just Power's ongoing iDoc intermedia research project, including a test-run of the Perfect Storm: Feminist  Energy Transition role-playing game.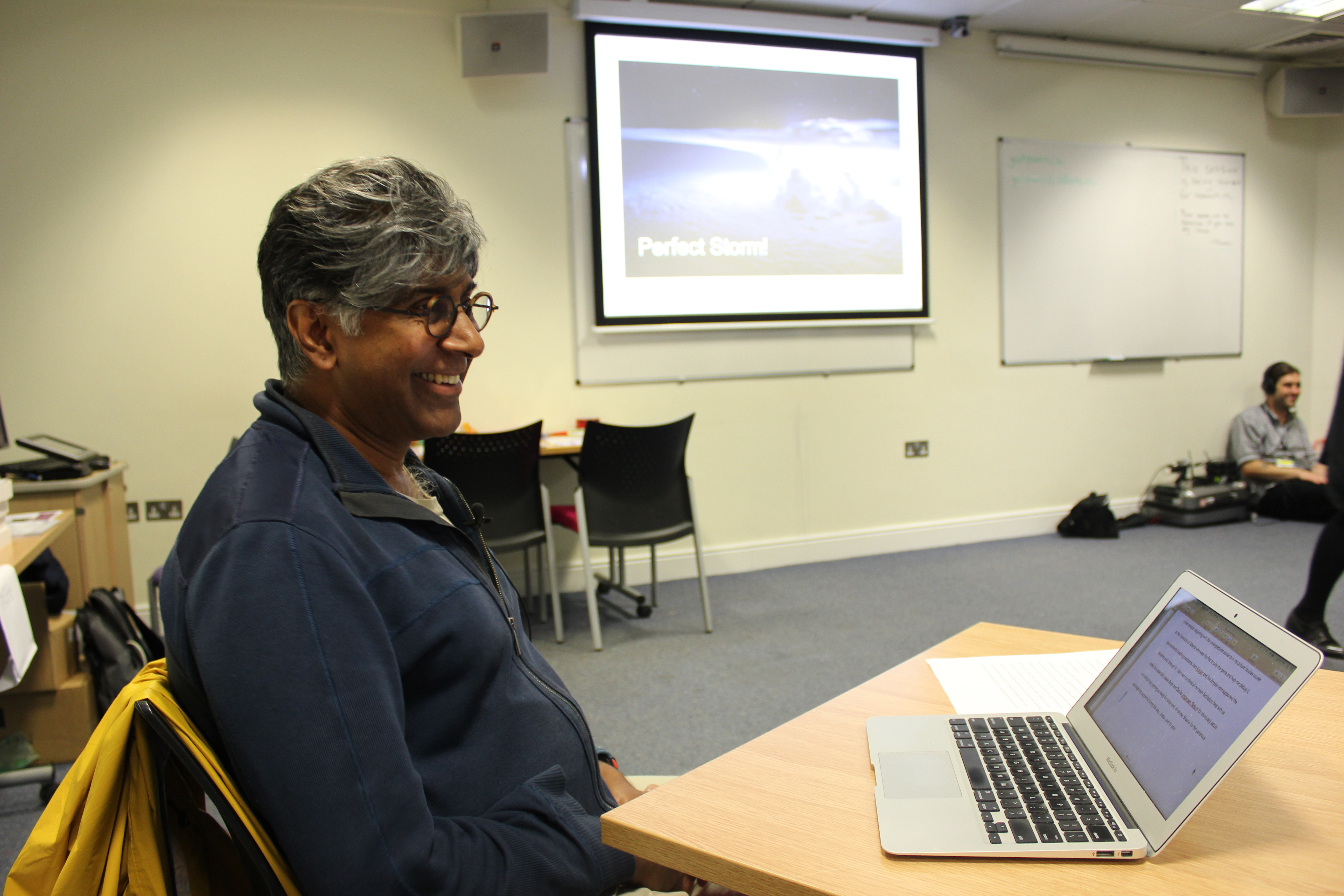 Plenary Lectures & Conference Highlights
Just Powers was also able to capture some of the plenary talks from the conference. Check out some of the highlights below!
Plenary Lecture — Beside the Ocean of Energy Future Time
Presenter: Laura Watts, University of Edinburgh
Plenary Lecture — The Future of Dependency: Shell's Foresight and the Petrocultural Penumbra
Presenter: Jeff Diamanti, University of Amsterdam
Plenary Lecture — "Oil was the hidden actor": Gender, Sexuality and Resource Imperialism in World Petro-fiction
Presenter: Sharae Deckard, University College Dublin
Plenary Lecture — Melt/Rise: A Song of Flood and Ice
Presenters: Dominic Boyer & Cymene Howe, Rice University
Town Hall — Life After Oil: Scotland and the Transition
Speakers: Imre Szeman (University Research Chair and Professor of Communication Arts at the University of Waterloo), Patrick Harvie (MSP/Co-convener, Scottish Green Party), Claire Mack (CEO, Scottish Renewables), Gavin McLeod-Little (Professor of Environmental & Public Law, University of Stirling), Ben Twist (Director of Creative Carbon Scotland), and Laura Watts (Interdisciplinary Senior Lecturer in Energy & Society at the University of Edinburgh).
Panel — Modalities of Transition
On Energy Impasse: Cultural and Social Barriers to Energy Transition
Speakers: Mark Simpson & Imre Szeman
How to Read a Novel in Light of Climate Change
Bob Johnson, National University in San Diego, California
Genre, Energy and Community in the Transition
Rhys Williams, Glasgow University  
Petrocultures Book Launch
The 2018 Petrocultures also included the launch of the 2018 book Petrocultures: Oil, Politics, Culture, edited by Sheena Wilson, Adam Carlson & Imre Szeman, now available for purchase online through McGill-Queens University Press: http://www.mqup.ca/petrocultures-products-9780773550384.php
"This comprehensive collection opens the lid on a barrel of oil and analyzes it from nearly every angle possible: as an infrastructural network, a complicated material substance, an aesthetic, and a philosophical problem. A valuable text featuring the best from the burgeoning field of the energy humanities."  – Matthew T. Huber, author of Lifeblood: Oil, Freedom, and the Forces of Capital